BRAND AWARENESS THROUGH SOCIAL MEDIA PARTNERSHIPS

For one of our latest projects, which included building an online betting operator from the ground up, one of the main tasks was to create a brand awareness strategy for the local market. We aimed to present and differentiate the brand's products from the existing competitors in the industry. Our strategy for the period July 2022 – January 2023 was to create massive social media exposure by including content creators and influencers on a local level.
The partnerships were planned to be active during the pre-launch campaign of the betting platform in order to create hype and pump up the audience. Furthermore, it had to prepare the audience for what to expect from the platform, make them familiar with the brand, its concept and product and help drive traffic to the website in order to gain more registrations. The results were more than satisfying, so we continued the partnerships after the pre-launch period. In total, we collaborated with them for 45 days. 
The social media strategy for the brand's personal social media networks followed a divide and conquer approach: dividing the social media networks into three verticals – sport, casino and bingo. This was done in order to reach a broader audience, gain more brand awareness and promote the brand on even more fronts. The separation of the 3 distinguished product categories, gave us the opportunity to collaborate with more than one type of content creators and influencers, which led to the promotion of the brand to different types of big audiences and helped us with our acquisition marketing strategy.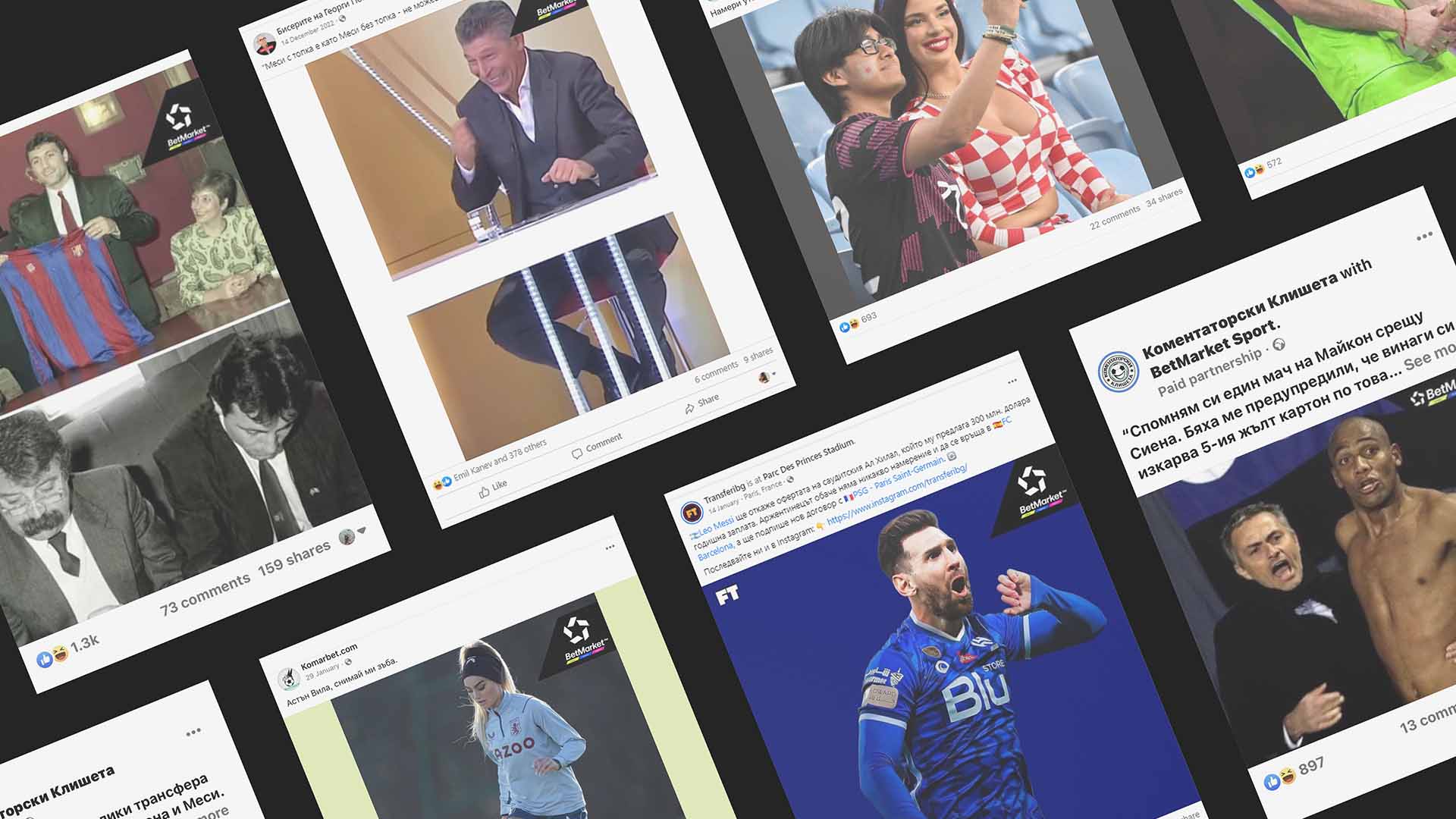 As we already mentioned, the product itself was an online betting platform, focused on sports, casino and bingo. Having this in mind, we knew the type of audience we were  about to engage, so we did our research on which type of content creators will match our goals. 
people, who frequently watch sports and like to bet and predict results (mainly football fans);

people who like to be informed about upcoming events, matches, sports news;

people who like to play casino or bingo slot games for fun. 
We partnered with content creators who generate content relevant to our target audience. Since the online presence of the brand was completely new to the users on the local market, we needed content creators with a substantial amount of followers. Our strategy involved selecting micro and macro influencers, with a follower base between 2K up to 300K. We were able to collaborate with a total of 12 social media partners, whose content was focused on sports (mainly football) and on casinos.
Since we wanted our partners to stay authentic to themselves and their audience, we gave them the freedom to create a type of content, which fitted their profile, style, tone of voice and would be interesting and engaging for their followers. We gave them the green light to be creative and come up with cool content. The main social media networks, which we used, were Facebook, Instagram, Twitter, Tik Tok and YouTube. The content varied from:
News about Football teams and their players, coaches, match activity, transfers, and more, shared on Facebook/Instagram/Twitter

Informative posts about facts and statistics around sports events; 

Posts about different stories from the football world in general, regarding players and their background/career, a memorable moment from a match, or a post in the form of a story about a certain player and his wins, medals, etc.

Posts in the form of different quizzes/games with small prizes in order to engage the audience and create a positive image of the brand/promote it and posting memes related to trending news/topics. 

Posts about the brand's actual odds value
We also collaborated with content creators on Tik Tok where they had to produce video content, talking about the most interesting matches during the week, their predictions about the game, what to look for and what to expect from the players. They also made promotional videos about the betting brand – talking about the launch of the platform, what features it offered and all of the perks (such as welcome bonuses) a user could expect. The third type of videos they made were branding videos, wearing the brand's clothing.
When it comes to how we measured the success of our social media partnerships, it all came down to the reach and engagement rate they achieved. In total:
Video Views (Tik Tok and Instagram Reels)
With our social media strategy, regarding the content creators and influencers, we flооded the social media space with our presence and created big exposure and promotion for the brand. Moreover, this brought us a lot of good publicity.
All in all, we are happy to say that for this short period of time of  6 months between July 2022 and January 2023, we managed to achieve our goal – to make the brand recognizable and engage the audience on different levels. We built strong relationships with all of the partners and our outstanding collaboration helped the development of the brand.