The beginning
Doing content marketing for the iGaming industry is not an easy task and excelling at it is even harder. However, with the help of our amazing Content and Copywriting team, we have proven to be not only experts in this field but also a great partner for one of our oldest clients – Komarbet.
As one of the popular affiliate partners of licensed bookmakers operating in Bulgaria, Komarbet came to us with a request to help them grow their brand awareness. As a digital agency that lives and breathes gaming and sports betting, we immediately got to work. And the results were amazing – more than 1500%  increase in website traffic! Check more details about what we've accomplished in only 4 months in paragraph "The results".
The challenge
Being a good and profitable affiliate partner of online betting operators can be really hard…There are many others just like you, promoting the same bonuses as you do, sharing the same news as you, etc. So at the end of the day, our biggest challenge was to set Komarbet apart from their competitors and make them one of the preferred sources of information for the masses of sports fans and online casino players in Bulgaria.
To complete this goal we had to plan a strong Content Marketing strategy with the main purpose of increasing brand awareness and turning it into a trustworthy affiliate partner amongst the online betting users.
The strategy
Being a result-oriented team, we knew straight away that our initial strategy would revolve around increasing the traffic to the website. To begin with, we focused on increasing the number of unique pageviews and impressions, so we can get more registered users and more opportunities for new affiliate partnerships.
To make the website more appealing to the audience, and therefore increase its results, we first began by improving the overall look of the content on the website. We optimized the already existing content on the site by editing and updating the blog posts and replacing the old images with new ones that grabbed the attention of the audience and were optimized for quicker loading times of the site. What is more, we created a new structure of the menu so it showed only the important content for the users. 
The next step in our strategy was to create tons of new sports betting and casino games content, relatable to the audience. We put the world's first Copywriter with a target for traffic (yes, you read that right) to the task. He started writing 3 to 5 sports-related articles per week, focusing on the latest and most popular events and news and writing in his unique way that not only gave unique insights to the audience but also immediately got the traffic of the website through the roof. 
In addition to copywriting, we wanted to develop a new strategy for e-mail marketing. We focused on creating more personalized newsletters that included the latest sports and casino promotions from the betting operators who are Komarbet's partners. We started sending 2 e-mails per week and then we made them up to 5 per week to increase the engagement of our subscribers.
As far as social media goes we wanted to take the game to another level, so we started creating more engaging social media content for Komarbet's Facebook page. We even started a monthly giveaway campaign in the client's Facebook group which got fast interest from their loyal followers. Apart from that, we decided to gain awareness on another popular social media platform – Youtube. By creating a personal Komarbet youtube channel we attracted an audience of slot games fans, which increased our reach in the gaming circles. We gained more than 1000 subscribers in only 2 months. Thanks to our slot queen Elena, our followers could watch up to 2 videos per week where she played new and popular games in the casino world. The results of those videos were so good, that we also teamed up with Palms Bet and started creating videos with Elena for their brand as well.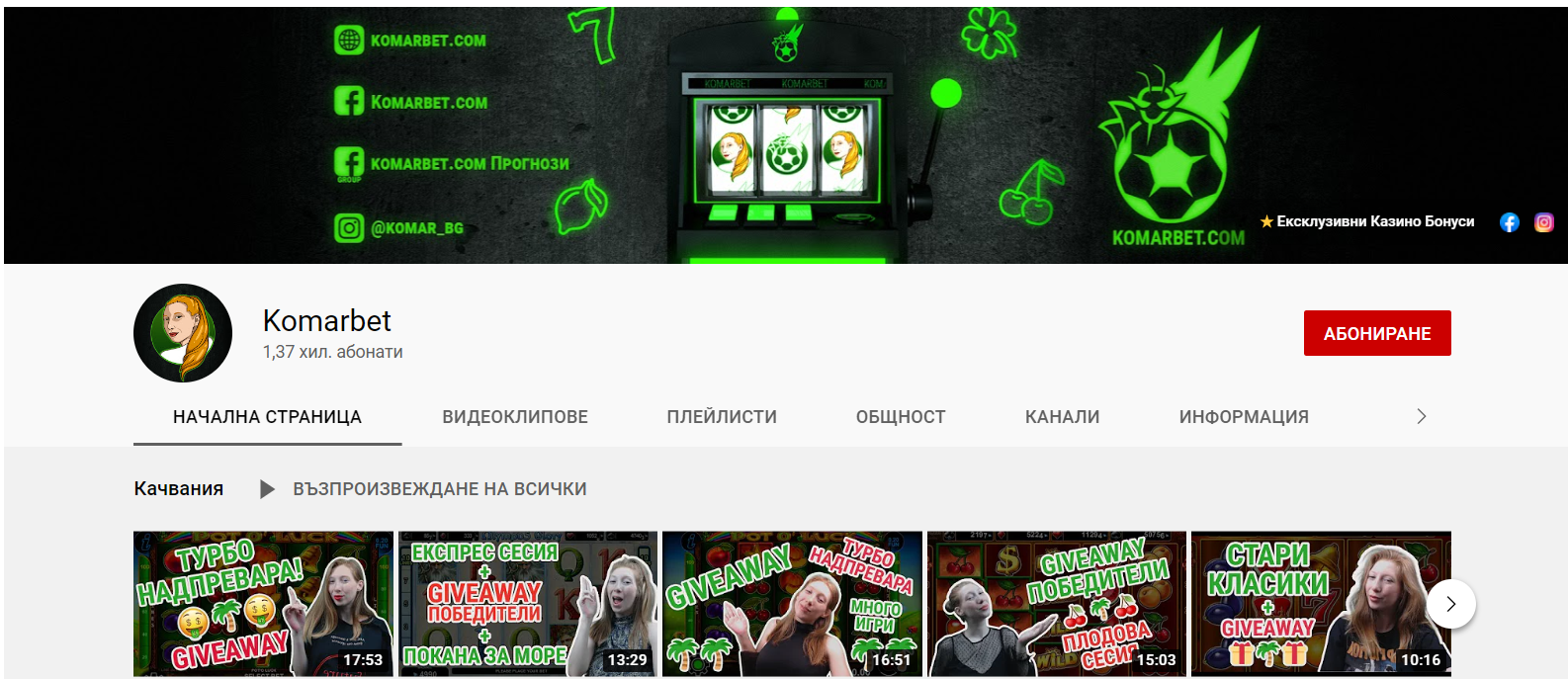 The results
Our work and consistency brought some amazing results in only a few months time. Our Content Marketing & Copywriting strategy helped Komarbet increase their website traffic with more than 1500% for 4 months.

Together with that, their Social Media traffic was also performing more than better, with an increase of 3 times comparing July to September.
Overall, we got some great results in a short time period and created a strong partnership with Komarbet with whom we continue to work to date. As Hristo Georgiev, CEO of the company said:
"I've made some wrong choices in my life, but I compensate with absolute HITS, and working with Rise The Web is one of them. A young and motivated team, who implements its technical knowledge and strategic thinking about any details in each one of their projects."
18+ | Responsible Gaming | Отговорна игра